After an intense Final between France (École polytechnique), Ukraine (University of Kharkiv) and Sweden (Chalmers University of Technology), the winner of the 9th International Physicists' Tournament has been designated!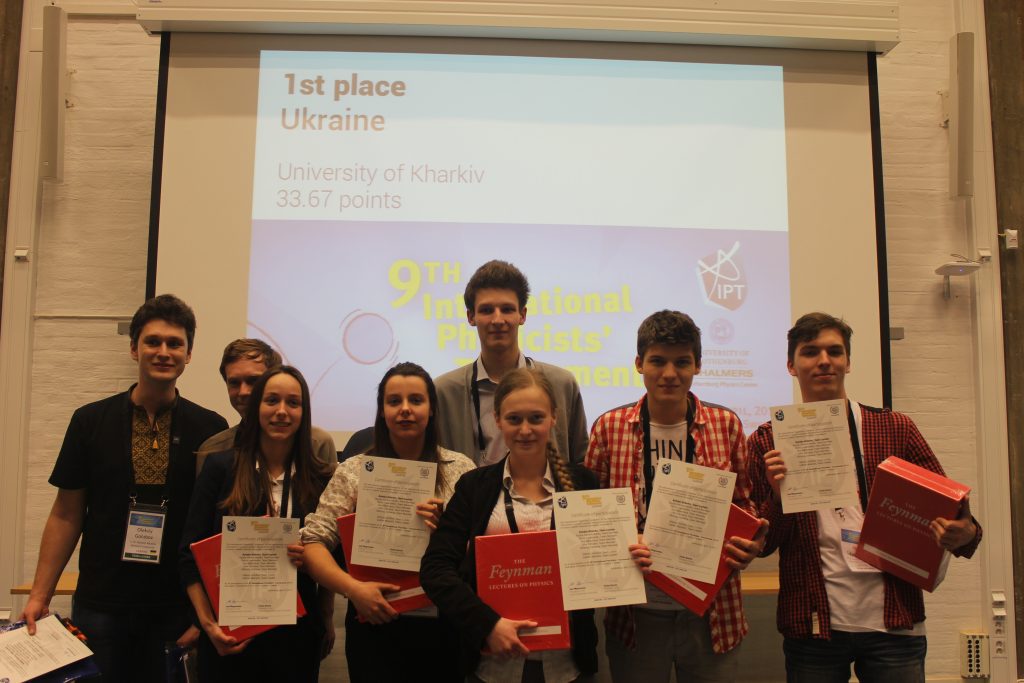 IPT Final
The Final started with an exciting Captains Fight composed of two challenges. The first one was a theoretical question, and the second one asked the team members to assemble an Ikea furniture without the instructions! Then the roles were assigned.
In the first round, Ukraine reported on problem 10 "Light-driven vehicle":
"Build a toy car that is powered by an external light source. What is the maximum speed that the car can reach if it starts moving from rest? The light source cannot be moving with the car and is limited to 5 W of power consumption. What are the important parameters that influence the final speed of the car?"
France was the Opponent and Sweden the Reviewer.
In the second round, France presented its results on Problem 9 "Water Trail" :
"A spray of water drops can be generated behind the wheels of a moving car on a wet road. How does the height and length of the spray trail that is formed depend on the speed of the car? What is the mean size of the drops that are formed? Can the drops form a mist that is thick enough to seriously reduce the visibility on a busy highway?"
Sweden was the Opponent and Ukraine the Reviewer.
Finally, in the third round, Sweden reported on problem 6 "Electro-hydro entanglement":
"An analogy is often made between the behaviour of electric circuits and water flow in pipes. State the conditions under which this analogy holds. Can this analogy be readily applied to oscillatory circuits? electrovacuum lamps-triods? diodes? semiconductors? superconductors? logical elements? You may
even try to create and demonstrate the analogy to some common electric device containing active and passive circuit elements such as "water radio"."
Final Ranking
The final ranking of the 9th International Physicists' Tournament is the following. The detailed results can be found on IPT Connect.
Congratulations to all the teams for their outstanding performances! We are looking forward to seeing you next year for #IPT2018!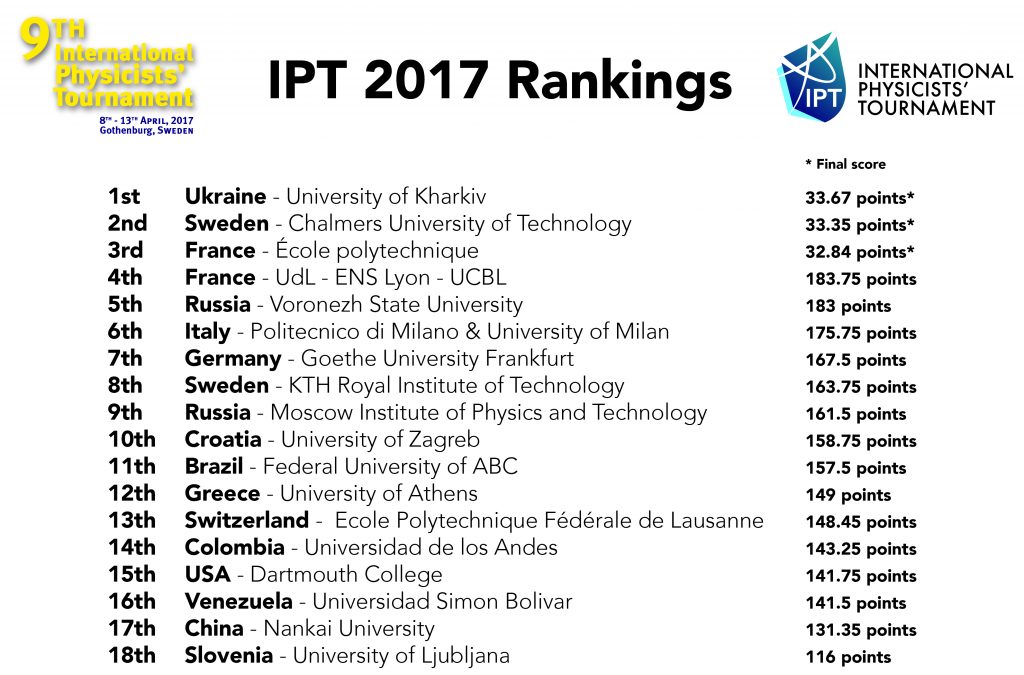 Credits: International Physicists' Tournament.